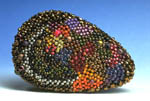 © 2008-2010 NanC Meinhardt Studio, LLC
kj
Workshop
Right-angle Weave Shapes
Skill level: Intermediate to advanced
Prerequisite: EXPERIENCE WITH RIGHT-ANGLE WEAVE

Right-angle weave, an off-loom bead weaving technique, has the special qualities of great strength while being a magical supple beaded surface which can be easily shaped over three-dimensional forms. In this workshop, participants will review the technique of flat right-angle weave. To use this weave in a free-form manner, NanC will demonstrate how to increase, decrease, use filler beads, and accomplish a technique she developed called "filler bead inside increase." The intricacies of free-form, right-angle weave will be explored and integrated as each individual designs, creates, and covers a three-dimensional polymer clay form. The forms will be available for purchase in class.

This intensive workshop is technique- and process-orientated. NanC's interest in the creative process provides a stimulating, thought-provoking and inspiring class experience.

Supplies Needed:

Please bring small amounts of the following beads to make learning samples. High-contrast colors please. It is easier to learn if you choose high-contrast colors that you wouldn't want to use in a finished piece.
3 colors of size 8 seed beads
2 colors of size 11 seed beads
2 colors of size 6 seed beads
The polymer shapes will be available for purchase on the day of the workshop. Please bring the following supplies for making your lariat or necklace:
3 or more colors of size 11 seed beads and/or 3 or more colors of size 14 seed beads. The size 14 seed beads will give you much more detail in form than the size 11s. I use a combination of both in my pieces. I like to use the bronze, silver and gold tones of seed beads in my forms. You may do the same or choose a palette for yourself.

Tacky tape

Small scissors

Magnifying glasses or visors

Black Silamide A or Nymo Black size D beading thread. We will not be using Fireline for this project. You need black thread.

Size 11 and 12 beading needles

Beeswax or micro wax

Magnifying glasses or visor (seeing is very important!)

Power Zap is optional but a good idea
If you have any questions, feel free to contact me (see below).