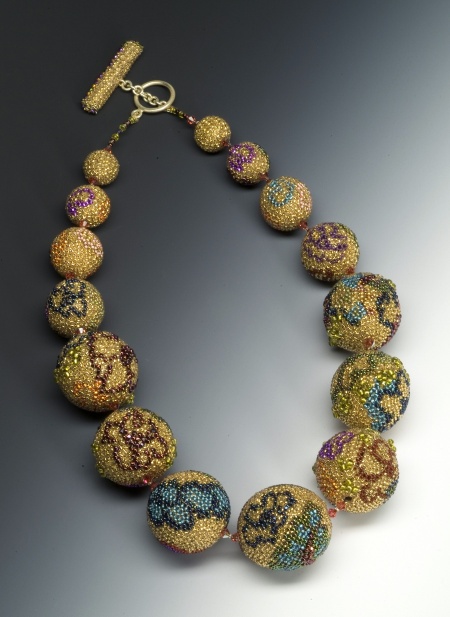 © 2008-2010 NanC Meinhardt Studio, LLC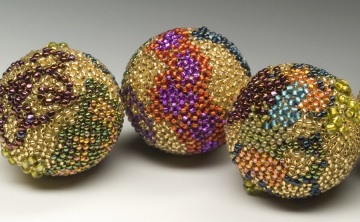 Workshop
"Balls, Balls," Said the Queen

A one- or two-day workshop
Skill Level: Intermediate (knowledge of right-angle weave)


What beautiful beads they are! In this workshop with NanC Meinhardt, you will use right-angle weave to create sumptuous beaded beads. She will teach you how to increase and decrease in right-angle weave to shape your beadwork into beaded treasures. Each technique has its own strengths and weakness. Right-angle weave is at its best when used to pick up the slightest nuances of shape and form. NanC will also show you how to create floral and/or patterned beads. You will have time to develop your design skills as you learn to place colors, bringing your design to life.
Supply list
Lucite, plastic, or wood beads in any sizes and shapes to use as armatures. You can choose a variety of sizes and shapes if you wish. Remember that they will end up larger after they are beaded. Round or oval shapes are the easiest to work with, but unusual shapes will be interesting as well. Choose beads with smooth surfaces.

Seed beads. A smaller-size seed bead (i.e., size 15) will give you the most detail. The quantity of seed beeds will depend on how many beaded beads you wish to make.
20 grams of size 11 or size 15 seed beads background color. If you like gold, 465A (I used them in my own necklace) is a winner.

10 grams each of the same size of seed beads as your background color in a variety of other colors to use to create the design on your beaded bead. Choose a palette of colors that you like.

20 grams of the same size seed bead you are already using, in a color that is a high enough of a contrast color from your palette that it will work as an "outline" color for the design.

Crystals or beads to string between the beaded beads on your necklace. You will not need these for the class, as you will not finish enough beads to string the necklace. You will have a better idea of what beads or crystals you would like to use after you finish all the beaded beads.

Roll of Terrifically Tacky Tape

Nylon thread to match your background color

Size 12 beading needles

Small scissors

Fine-point Sharpie permanent marker

Stringing thread. The string material will not be needed in class, as you will not finish enough beads to string the necklace. If you are using Soft Flex, you will need four crimp beads.

Magnifiers, if needed—seeing is a good thing!
Optional supplies
Clasp. You may also make the necklace long enough to go over your head. You will not need the clasp for the class, as you won't finish enough beads to string the necklace. You might have a better idea of what kind of clasp you would like after you finish making all the beaded beads.

Thread Zapper
Other
If you are taking this class at my studio in Highland Park, I will provide the following items. If you are taking this class elsewhere, you might need to bring them with you:
Task light

Beading surface