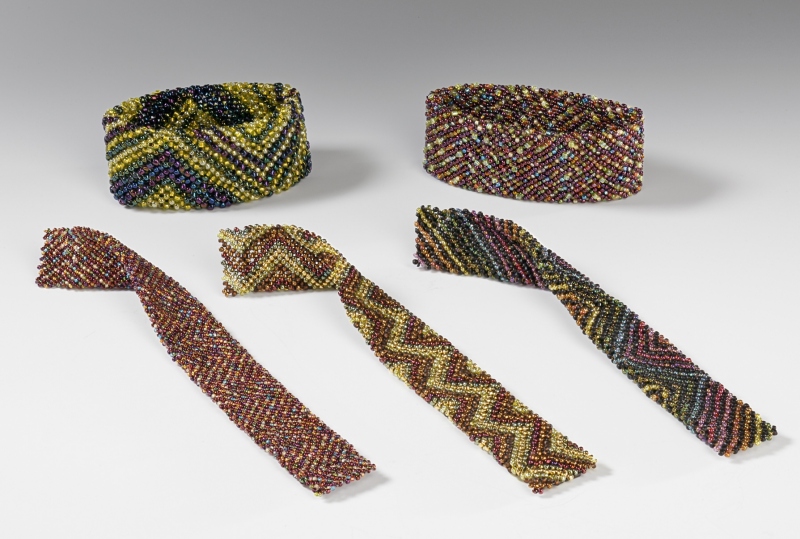 Photo above by Martin Konopacki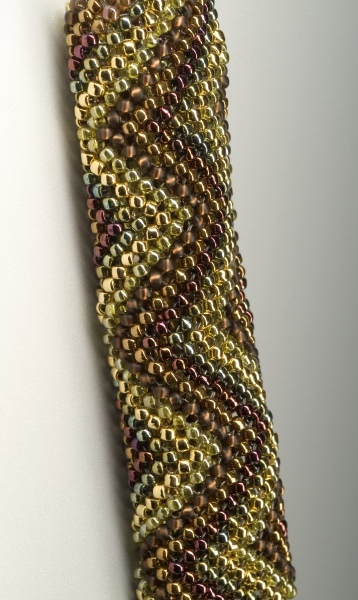 © 2010 NanC Meinhardt Studio, LLC
kj
Workshop
Very Tailored Bracelet
PREREQUISITE: MUST KNOW SINGLE-NEEDLE RIGHT-ANGLE WEAVE WITH ONE BEAD ON EACH SIDE OF THE SQUARE.
SKILL LEVEL: INTERMEDIATE TO ADVANCED
NanC Meinhardt has designed a challenge for you in her "Very Tailored Bracelet." The end result is a bracelet that is easy to wear and will fit nicely into your wardrobe. NanC, the originator of "free-form right-angle weave," leaves her intuitive nature behind for this tailored design. You will use tubular right-angle weave and a diagonal pattern that changes direction several times within the bracelet, to accomplish this deceivingly simple-looking piece. Bring your knowledge of right-angle weave to class, and explore a new technique to add to your repertoire.
Supply List
The Very Tailored Bracelet can be made in size 14/15, 11, or 8 seed beads. You can also use size 10 triangle seed beads. My supply list is not a must-have list. Rather it is a list of suggestions. I have made this bracelet with one color alternated with a "bead soup" making up the second color. I also made one using as many as seven different colors, all the colors being in the same-size seed bead. The following list are the colors I used in yet another "Very Tailored Bracelet."
For this one I used size 14/15 seed beads, though you may also use the same color selections with size 11 seed beads.
20 grams of color A seed bead. This color is one of the diagonal stripes in the bracelet.

20 grams of a mix of colors for color B, which is the other diagonal stripe in the bracelet

Color A: approximately 20 grams of size 14/15 460A seed beads

Color B: approximately 20 grams of size 14/15 seed beads of the following colors to make a mix or "soup" of beads:
318Q, 648, 552, 21A, matte 457, 462A, 274C (a cut bead from Toho), 637, 459D
4 lb. test Fireline if you are using size 14/15 seed beads, 6 lb. test if using other size beads

Size 12 beading needles if using size 14/15 seed beads, size 11 or 12 beading needles if using other size beads

Beeswax or micro wax

Snaps or pants closure

Magnifying visor or glasses (not optional)

Small scissors

Beading surface